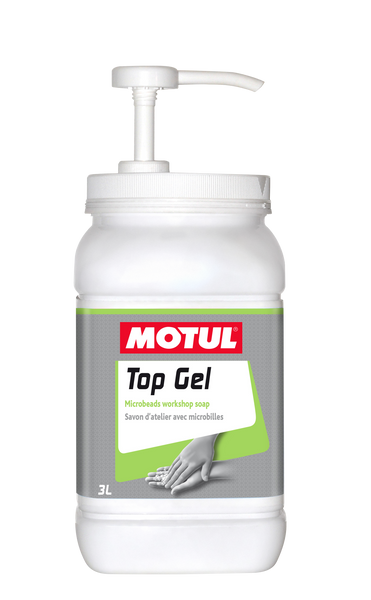 Top Gel - Hand Soap
TOP GEL is a cleansing gel used for the easy removal of oil or ink stains. Especially useful and recommended for use in garages and workshops,
TOP GEL contains antiseptic ingredients, highly effective in the combat against microorganisms.
TYPE OF USE
Cleaning of dirty hands, recommended for mechanics, garages, workshops, farms, transport and construction engineering
CHARACTERISTICS
Complex mixture of wet substances, detergent agents, solvent products and polypropylene micro balls.
Contains an antiseptic and bacteriostatic preservative agent which guarantees a perfect resistance to micro-organisms.
Meets NFT-102 standard.
Formula based on almond extracts to protect hands.
Leave hands soft and slightly perfumed.
DIRECTIONS FOR USE
Put just a dab of MOTUL TOP GEL on dry hands.
Rub without water and rinse with plenty of water.