---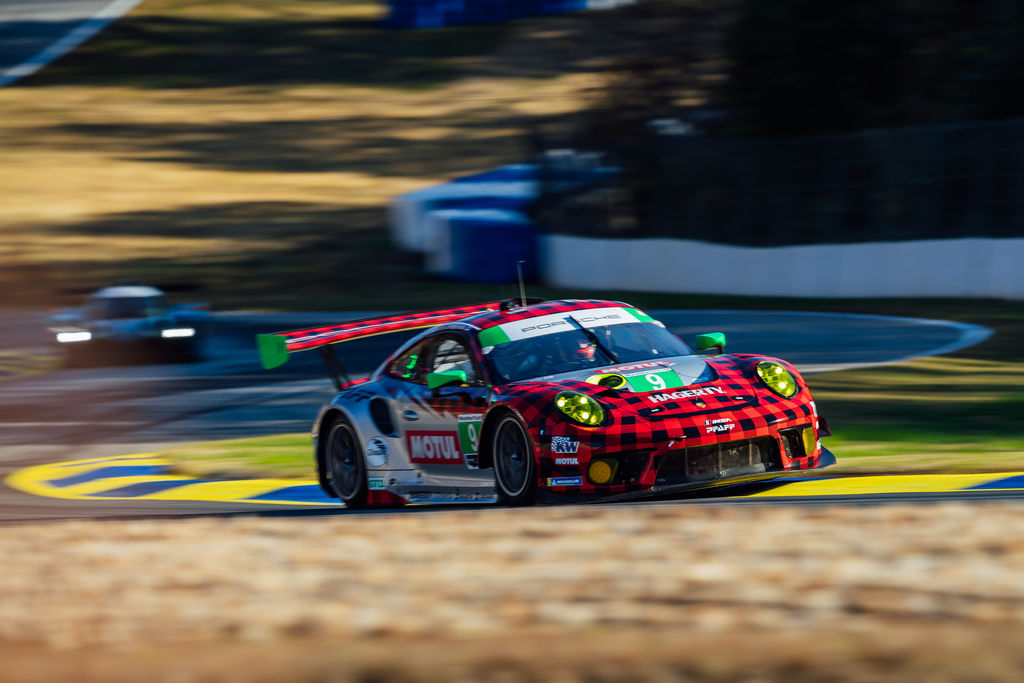 ---
In a championship battle that came down to the final race at Petit Le Mans this past weekend, Pfaff Motorsports captured its first-ever IMSA WeatherTech GTD team and drivers' titles with a second-place finish, capping a tremendous final half of the season. The Canadian team took three victories and two second place finishes in the final five rounds with the no. 9 Motul Porsche 911 GT3 R, affectionately referred to as the "Plaid Porsche."
The championship gives drivers Zach Robichon (CAN) and Porsche factory driver Laurens Vanthoor their second driver's titles (2019 GTD sprint & 2019 GTLM champions, respectively), and brings Porsche's total manufacturer's championships in the IMSA WeatherTech series to seven. 2021 also marks first time a Porsche team has won the championship in seven years – and it has been eight years since Porsche has won the GTD title as a manufacturer. At Road Atlanta, Robichon and Vanthoor were joined by endurance teammate and Nürburgring production car record holder Lars Kern (GER) in what would be the trio's final outing together as part of the Pfaff squad.
The championship gives the Pfaff team, long associated with Porsche, its fourth total championship with the manufacturer, building on its three Porsche GT3 Cup Canada and 2018 GT World Challenge America team titles.
CHRIS PFAFF, TEAM OWNER:
"Usually, I have good answers but I'm a little without words right now. The team has just gone above and beyond expectations all season. Sometimes it's easy to see a fast car and a fast driver, but these performances and this championship is so much about the team's overall performance all the way through. It's an infectious culture of passion and camaraderie that isn't often seen, so I couldn't be prouder of everyone for their accomplishments."
STEVE BORTOLOTTI, GENERAL MANAGER:
"We really hit our stride mid-season. To not finish below second for the last half of the season is an incredible testament to everyone's dedication this year, so we can be proud. It's a great send-off to all three drivers – it was the last race for all three of them – for the time being at least – and it was a great team effort from start to finish. It's a great testament to the Pfaff Motorsports program that so many of us have been able to grow within to get to this point. Motul has also been an amazing partner of ours throughout the racing season. We truly believe in the superiority of its products. It's not just marketing or sponsorship. We run Motul's products in our race cars, or track cars and all in our personal ones too. I think we have a lot more winning ahead of us, so we'll continue to build and develop this program to become even bigger and more encompassing. We're really a family, and I couldn't be happier to win with this team."
LAURENS VANTHOOR, DRIVER:
"That was a mega performance. So much happened in this long race. We tried to always stay out of any problems, which was difficult given the number of yellow flags. Our car was really good, and our strategists and engineers did an incredible job planning out the race. Unfortunately, we couldn't overtake the Aston Martin and celebrate a class win, but that's little in comparison in terms of what we were able to accomplish throughout this whole season. Since Sebring, it was all about the championship and we achieved that as a team. I'm very proud of the team and my colleagues in what we were able to achieve together."
ZACH ROBICHON, DRIVER:
"It has been an absolute pleasure to work with this team. Everything about this championship was won as a team. It is special right now to end the season on such a high note at such a great race just culminates the last three years. I couldn't be prouder of the team. I am very happy. From the beginning of the year, we knew we had all the parts to finish it. As we see in endurance racing so many things can go wrong – so to have everything fall into place seems too good to be true right now."
Picture credits: @lenssenphoto