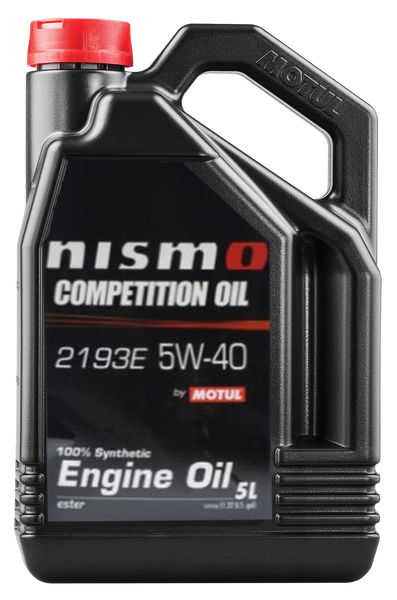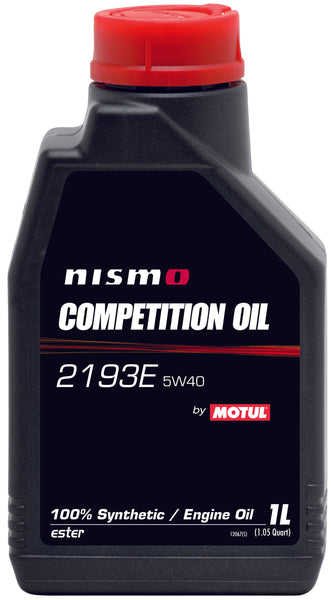 NISMO Competition Oil 2193E 5W40
100% Synthetic – Double ESTER

 Technology
FEATURES
Formulated for low friction, Turbo charged, supercharged, high horse power & high torque engines set to race circuit specs such as the VR38DETT, this oil contains Polyolester, proven for its superlative performance at low temperatures, and will maintain its stability and film and sheer properties across a wide range of driving conditions.
ALLOWABLE TORQUE: set to 70kgf·m (600 ps)
Similar to the 2108E Competition Oil, this oil increases engine output through reduced usage of the detergent-dispersants that have been shown to cause friction loss in high-load conditions as well as suppresses the formation of sludge that is a common cause of friction loss in engines running with superchargers.
Specifications
SAE viscosity: 5W40
100-percent synthetic Double-Ester technology
API Equivalent: API SL
Designated oil for NISSAN R35 GT-R
 Formulated for low friction but maintaining generous oil film and sheering properties.  The NISMO-MOTUL motor oil will minimize engine wear and  to the bearings where pressure is at its highest.
 2193E (5W40) maintains the GT-Rs top performance under high load conditions while providing the engine with the added protection needed to meet the demands of Motorsports use.  It's special load reducing qualities work across the entire temperature range.  NISMO-MOTUL 2193E (5W40) motor oil has been designated the engine oil of choice for the NISSAN R35 GT-R.
General Information                   
2193E (5W40) is the recommended oil for the NISSAN NISMO GT-R RC and the NISSAN GT-R NISMO GT3.
2193E (5W40) motor oil is officially recognized as being in conformity with NISSAN warranties when used in NISSAN R35 GT-R only.
Please change your motor oil after 3,000 kilometers of high performance driving or 10,000 kilometers of normal road use.
---