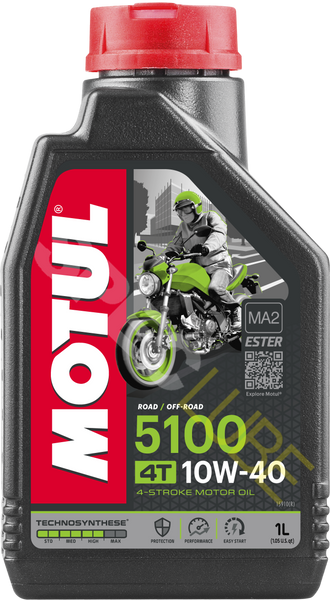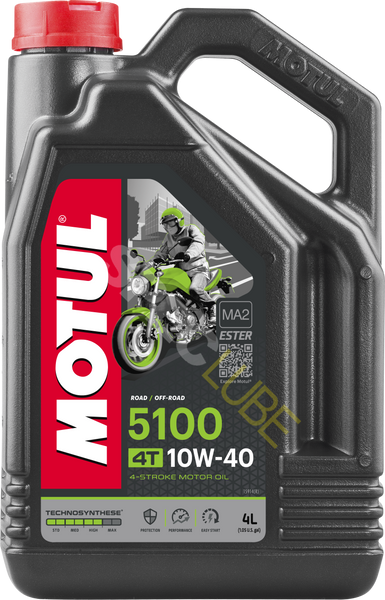 5100 4T 10W40
PART NUMBER: 104066, 104068

High Performance Motorcycle Lubricant
TYPE OF USE
MOTUL 5100 is a 4T motorcycle engine oil that meets reliability expectations for daily use and recreational activities. Suitable for any type of street or off-road motorcycle with 4-stroke engine, with or without integrated gearbox, wet or dry clutch. Perfect for motorcycles with exhaust after-treatment systems such as catalytic converters or secondary air injection.
Other applications: ATVs, UTVs, SxS, personal watercraft (PWC) or snowmobiles depending on manufacturer's viscosity recommendation.
PERFORMANCE
STANDARDS: API SP, JASO MA2 (2023) No. M033MOT207
Synthetic-based lubricant Technosynthese® reinforced with an exclusive Ester technology to ensure anti-wear properties and improve gear protection and life.
Improved oil film resistance at high temperatures for extended overall engine protection.

Optimized phosphorus and sulfur content for best catalyst operating conditions.
The innovative package of anti-wear additives provides excellent protection for the gearbox.
Dedicated formula for maximum efficiency & protection, smooth shifting, optimized fuel economy and easy start-up.
---