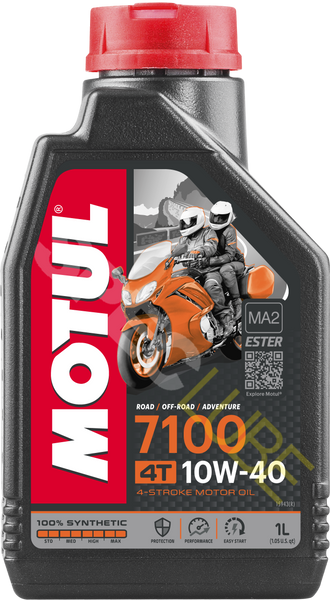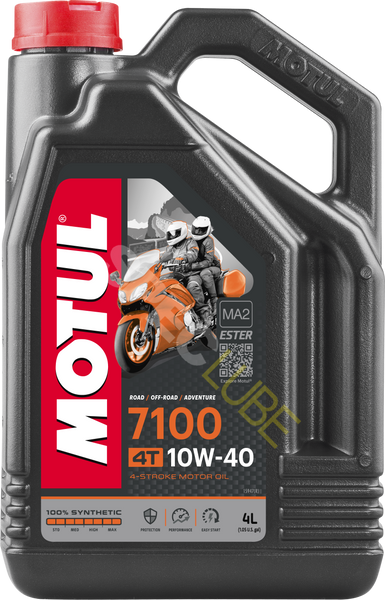 7100 10W40 4T
PART NUMBER: 104091, 104092

High Performance Motorcycle Lubricant
Excellent for stop and go city riding
TYPE OF USE
Suitable for any type of high performance motorcycle with 4-stroke engine, with or without integrated gearbox, wet or dry clutch. Perfect for motorcycles with exhaust after-treatment systems such as catalytic converters or secondary air injection. Designed for severe conditions in sport and adventure riding.
Other applications: ATVs, UTVs, SxS, personal watercraft (PWC) or snowmobiles depending on manufacturer's viscosity recommendation.
PERFORMANCE
STANDARDS: API SP, JASO MA2 (2023) No. M033MOT212
Synthetic base oil with an exclusive Ester technology in combination with an innovative package of anti-wear additives provides for:

minimized internal engine friction losses and improved overall performance
stronger oil film resistance at high temperatures and high speeds
improved shear strength and thus excellent gearbox protection over the entire oil drain interval.

Optimized phosphorus and sulfur content for best catalyst operating conditions.
Specially formulated for for sharp engine response, increased clutch grip / improved shifting, high temperature resistance and protection.
---