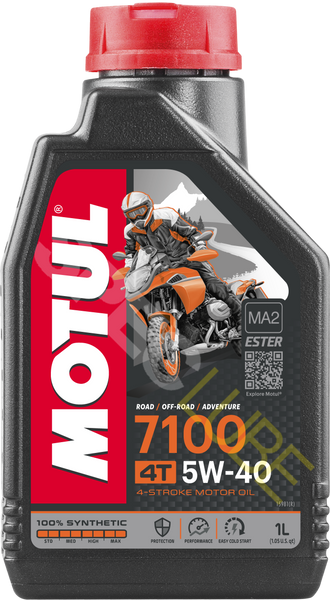 7100 5W40 4T
PART NUMBER: 104086

High Performance Motorcycle Lubricant
Excellent for stop and go city riding.
TYPE OF USE
High performance bikes, sports bikes, street & road bikes, trails, off road bikes, enduro, trial…fitted with 4 stroke engines, integrated gearbox or not, wet or dry clutch, engines meeting Euro 2, 3 or 4 emission regulation, fitted with exhaust gas after treatment systems : catalytic converters, air injection into exhaust pipe...
Recommended for specific DUCATI, KTM, BMW engines requiring SAE 15W-50 viscosity grade oil.
Other uses: street bikes without catalytic converters, scooters, ATV's, UTV's…

PERFORMANCE
STANDARDS:

 

STANDARDS API SN / SM / SL / SJ / SH / SG
Low traction coefficient Ester to minimize engine internal friction losses and improve performance.
Synergy of Ester with anti-wear additives and improved shear resistance for improved gear protection and life time. 100% Synthetic lubricant for improved oil film resistance at high temperatures and high revs.
Synthetic base oil with an exclusive Ester technology in combination with an innovative package of anti-wear additives provides for:

minimized internal engine friction losses and improved overall performance
stronger oil film resistance at high temperatures and high speeds
improved shear strength and thus excellent gearbox protection over the entire oil drain interval.

Optimized phosphorus and sulfur content for best catalyst operating conditions.
Specially formulated for for sharp engine response, increased clutch grip / improved shifting, high temperature resistance and protection.
---