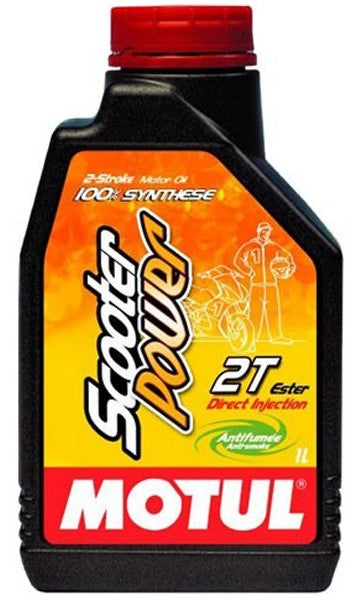 Scooter Power 2T Ester
Part Number: 105881
TYPE OF USE
All sports and high performance scooters, replica, sporty and urban, fitted with 2 Stroke engines, direct injection or conventional carburetor.
Can be used with oil injection systems or in premix.
Suitable for all type of Gasoline fuels, leaded or unleaded, biofuels.
Compatible with catalytic converters.
PERFORMANCES 
Standards: API TC, ISO -L-EGC, JASO FC
100% Synthetic – Esters based lubricant especially developed for powerful scooter 2 Stroke engines running at high rpm and high load.
Very high oil film resistance for maximum anti-wear protection.
Reduces engine internal frictions and improves performance.
Avoid deposits and ensure engine cleanliness on all internal parts: combustion chamber, spark plug, piston top, ring grooves, exhaust port, exhaust pipe…etc.
Anti-smoke properties.
---