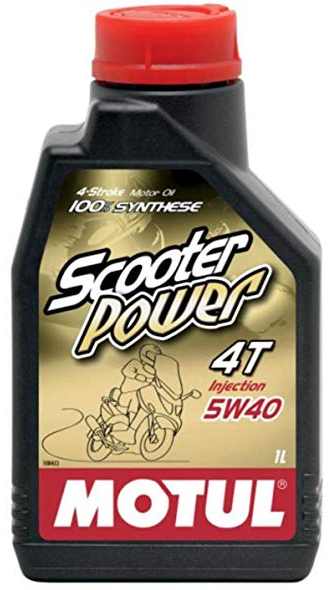 Scooter Power 4T 5W40
Part Number: 101260
TYPE OF USE
Specifically designed for powerful and recent scooters and maxi-scooters fitted with 4 stroke engines, any engine displacement, with or without catalytic converters, with integrated gearbox and wet clutch.
All scooters used for daily commuting and urban riding.
Suitable for all type of gasoline fuel, leaded or unleaded, with or without Ethanol, biofuels.
PERFORMANCES
STANDARDS: API SN / SM / SL / SJ
PERFORMANCES: JALOS MA under N° M033MOT171
100% Synthetic oil, reduces engine internal friction, improves mechanical efficiency.
The JASO MA specification offers an excellent friction levels to guarantee clutch response and durability.
Improved oil resistance for excellent high temperature protection particularly indicated for city use: full load during long periods and stop & go use with difficult cooling.
The SAE 5W-40 viscosity grade corresponds to the most recent manufacturers' recommendations and improves engine starts when cold and therefore reduces wear.
Very low volatility to reduce oil consumption.
Ensures engine cleanliness, detergent and dispersant properties, and resistance to viscosity increase from unburned deposits produced by the engine. High ageing resistance.
Anti-oxidation, Anti-corrosion, Anti-foam properties.
---