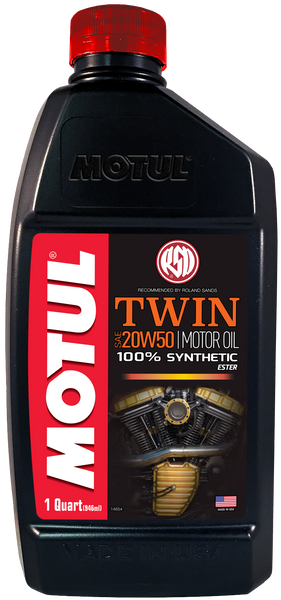 Twin Motor Oil 20W50
High Performance TWIN Motorcycle Motor Oil
Engineered for use in the Engine, Primary & Gearbox
100% Triple Synthetic – Ester / PAO / GRP3
TYPE OF USE
High performance 100% Triple synthetic oil specially engineered to handle and protect against high temperatures found in TWIN engines, either air cooled or air/liquid cooled.
Designed for integrated or separated Gear sets with or without a wet clutch.
Fully compatible with catalytic converters and 02 sensors.
Particularly recommended for use in the engine, primary case and gearbox of H-D Milwaukee 8®, Twin Cam®, Evolution®, Sportster®
Excellent for use in Indian®, Honda®, Kawasaki®, Suzuki®, Yamaha®, BMW® and Ducati® twin engines with integrated transmission, wet or dry clutch that requires a 20w50 engine oil.
PERFORMANCE
Standard :API SL/SJ/SH/SG/CF
Specification: JASO MA2 Tested
PROTECTION
Ester Technology

Molecular polar bonding technology enables oil to cling to ferrous metal parts, providing a protective film to help reduce wear at start up

Advanced Ester formulation is used to minimize engine internal friction losses, reduce wear and improve performance

TWIN 20W50 MOTOR OIL contains a high level of ZDDP (Zinc Dialkyl Dithiophosphate) extreme pressure additives for improved engine protection and extended engine life.

JASO MA2 specification provide outstanding grip on wet clutch plates helping to prevent slippage, chatter and premature wear.

High detergent and dispersant properties to maintain engine cleanliness.

Anti-oxidation, Anti-corrosion, Anti-foam properties.
RECOMMENDATIONS
Drain interval: according to manufacturer's recommendations and tune to your own use.
Can be mixed with synthetic or mineral lubricants in an emergency. The same viscosity grade should be used. The resulting diluted mixture will not perform as well and should be changed as soon as possible.
---