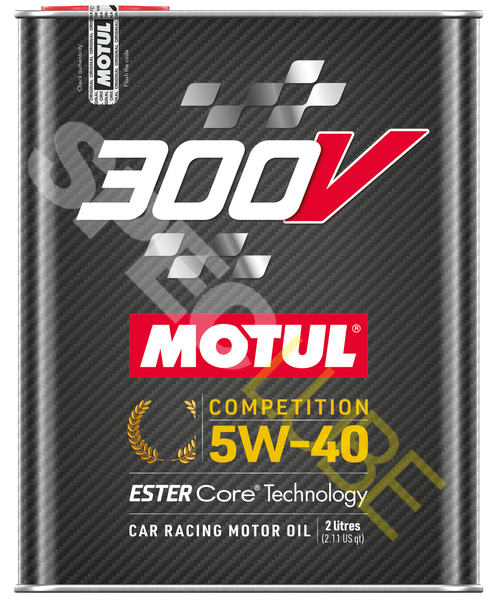 300V Competition 5W40
PART NUMBER: 104115

High performance lubricant for Motorsports
100% Synthetic – ESTER

Core®

 Technology
TYPE OF USE
Specially developed for GT, rally and road racing
Exceptional reliability in applications with medium fuel dilution
May be used in place of 0W30 or 5W30 if oil consumption or fuel dilution is high.
All racing gasoline or Diesel engines, naturally aspirated, turbocharged or supercharged fitted with injection (direct/indirect) or carbureted.
For tuned engines and high performance cars operating over a wide range of rpm and temperatures, in severe driving conditions.
Suitable for all types of fuels, gasoline, Diesel and biofuels (especially Ethanol).
PERFORMANCE
STANDARDS : Above all existing Motorsport standards.
TYPE OF USE : Rally – GT - Short distance race
The SAE 5W-40 viscosity grade allows excellent oil flow into the engine at start-up and fast oil pressure ramp up.
At high engine temperatures, stays in grade for sustained high oil pressure and faster engine revving.
The SAE 5W-40 viscosity enables to compensate medium engine oil dilution by un-burned fuel and maintains a stable oil pressure.
Maximum oil film resistance at very high temperature: Engine wear is reduced.
Friction Modifier: Maximum power output, decrease operating temperature.
Low volatility: Oil consumption is reduced.
High shear stability: Stable oil pressure whatever using conditions.
ESTERCore TECHNOLOGY
For decades MOTUL has developed high performance synthetic Ester based lubricants.
By selecting esters over other high performance synthetic base stocks and combining them with an innovative additive package, MOTUL has created a perfect synergy.
This most advanced ESTER

Core®

Technology allows maximum power output of the engine without compromising reliability and wear.