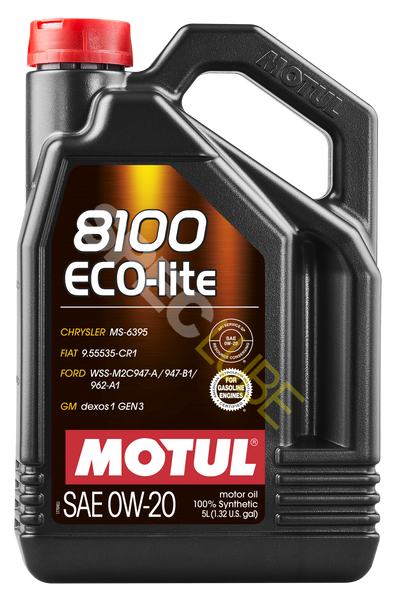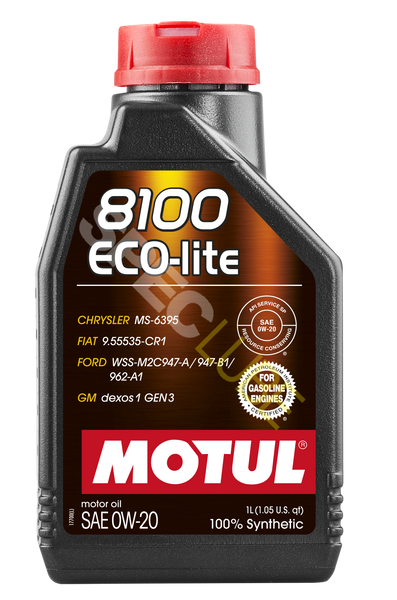 8100 Eco-Lite 0W20
PART NUMBER: 108534, 108536

100% Synthetic "Fuel economy" engine oil specially designed for recent gasoline engines, naturally aspirated or turbocharged, indirect or direct injection, designed to use oil with low friction and very low HTHS (High Temperature High Shear) viscosity
Suitable for modern gasoline engines requiring a viscosity grade 20 and fuel economy lubricant (API SN and/or ILSAC GF-5 standards).
PERFORMANCE
Standards: API SERVICE SN / CF, ILSAC GF-5
Performances: GENERAL MOTORS GM dexos1 GEN2 under n° D10688HJ011, CHRYSLER MS 6395, FORD 947 A
Recommendations: ACURA, HONDA, HYUNDAI, INFINITI, KIA, LEXUS, MAZDA, MITSUBISHI, NISSAN, SUBARU, SUZUKI, TOYOTA
The API SN standard is fully backward compatible over API SM requirements and all former API standards
API SN lubricants provide outstanding oxidation resistance, better anti-deposits protection, better engine cleanliness, antiwear protection and enhanced performance at cold temperature during the whole oil life span.
Viscosity grade SAE 0W-20 minimizes lubricant hydrodynamic friction, allows fuel economy benefits especially when the oil is cold.
Improves oil flow at start up, faster oil pressure build up, faster rev raisings and reach operating temperature faster. Environment friendly, this type of oil allows fuel consumption reduction and therefore minimizes greenhouse gases (CO2 ) emissions.