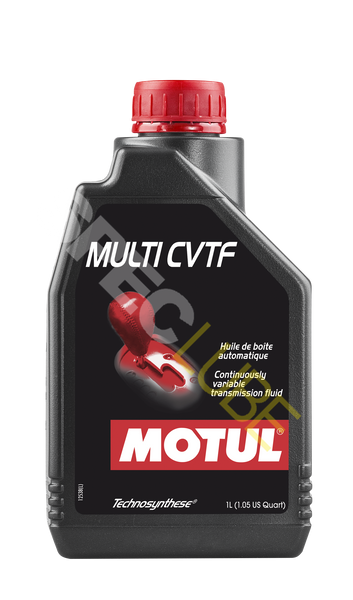 Multi CVTF
TYPE OF USE
High performance synthetic Technosynthese® fluid specially engineered for Continuously Variable Transmission (CVT) gearbox type.
Suitable for use in a wide range of vehicles fitted with CVT gearboxes using either chain/pulleys or belt/pulleys design. Especially suitable for vehicles from American car makers GM, FORD, CHRYSLER,…, Asian car makers HONDA, HYUNDAI, KIA, LEXUS, INFINITI, MITSUBISHI, NISSAN, SUBARU, TOYOTA,... or European car makers AUDI, BMW, MERCEDES, …
Attention, not recommended for CVT unit fitting hybrid vehicles. Before use always refer to the owner manual or handbook of the vehicle.
PERFORMANCES
Standards And Manufacturer Specifications : Refer to chart
MOTUL MULTI CVTF is a high tech multi vehicle CVT fluid suitable for a wide range of CVT-equipped passenger cars, including belt-CVT and chain-CVT design.
Thanks to its exclusive and dedicated formula, MOTUL CVTF :

Allows fuel economy for cars fitted with CVT automatic gearboxes by providing optimum metal-to-metal friction.
Provides high anti-shudder performance to avoid engine vibrations for increased comfort.
Protects gears that are more and more numerous, compact and heavily loaded.
Gives superior automatic transmission response through smooth shift feel and reduced shift time lag. - Improves CVT reaction at cold temperature.
Extends life time duration due to high shear stability at hot temperature and high oxidation resistance. - Increases wear protection of belt, chain and pulleys.
Anti-corrosion, anti-foam.