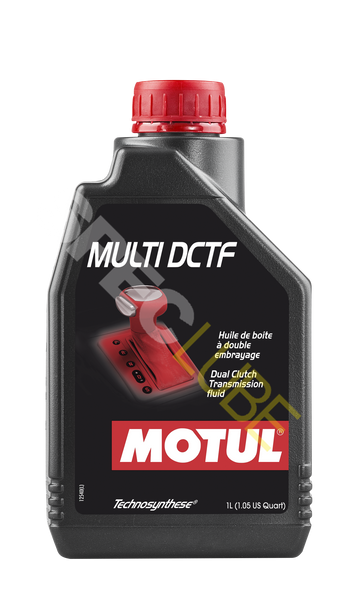 Multi DCTF
TYPE OF USE
High performance Technosynthese® lubricant specially engineered for Dual Clutch Transmission (DCT) gearbox type.
Suitable for use in a wide range of vehicles fitted with DCT gearboxes featuring Double-Dry Clutch Transmission and Double-Wet Clutch Transmission design.
MOTUL MULTI DCTF is also suitable for some mechanical gearboxes requiring gear oil with very low viscosity grade at low temperature such as SAE 75W.
PERFORMANCES
Standards: API GL-4
Performances: Refer to chart on Motul website
MOTUL MULTI DCTF 

is a high performance Technosynthese

®

lubricant suitable for a wide range of DCT-equipped passenger cars, including Dry DCT and Wet DCT design.

Thanks to its exclusive and dedicated formula, MOTUL DCTF :

Allows fuel economy for cars fitted with DCT transmissions by optimizing friction.
Provides anti-shudder performance to avoid vibrations on the engine's fly wheel.
Protects gears that are more and more numerous, compact and heavily loaded.
Gives superior transmission response: smooth shift feeling and no torque interruption between shifts.
Improves DCT transmissions response at cold temperature.
Extends life time duration, better shear stability at hot temperature and oxidation resistance.
Anti-wear, anti-corrosion, anti-foam.