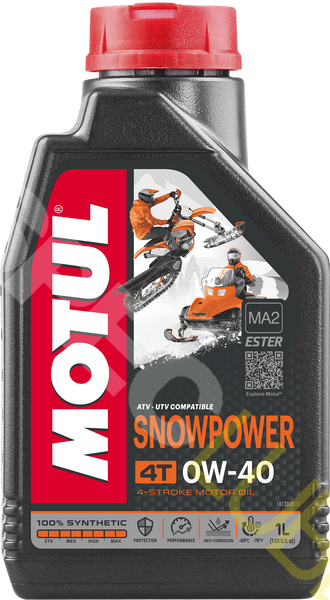 SnowPower 4T 0W-40
PART NUMBER: 105891
TYPE OF USE:
Specially designed for high performance snowmobiles 4 Stroke engines: Yamaha, Ski-doo/BRP, Arctic Cat, Lynx…
Strongly recommended for racing use.
Also compatible for ATV and UTV.
Suitable for all types of Gasoline: leaded or unleaded, regular or winter fuels, biofuels
Compatible with catalytic converters.
PERFORMANCE:
STANDARDS: API SN / SM / SL
PERFORMANCES: JASO MA2 under N° M033MOT177
This 100% Synthetic - Ester engine oil is formulated and developed to meet the most stringent requirements of very powerful engines operating in polar extreme conditions:

Faster rev raising and maximum power output.dispersant power for a perfect piston, chamber and power valves cleanliness.
Outstanding engine protection at high rpm and high temperature.
Balanced engine operating temperature.
Easy start up in polar cold.
Avoid starter clutch sliding.

Tested in Canada, MOTUL SnowPower 4T 0W-40 exceeds factory requirements for 4 Stroke engines.